Sfax
I personally think Sfax was the best medina I saw in all of Tunisia, including Mahdia and including Tunis. It was absolutely bustling. So many people were crammed in there it was unbelievable. And the best thing was that I was totally and completely ignored. It was so refreshing.
Amidst all the buying and selling, I found a slightly more quiet street and spotted a great looking kid selling vegetables. I asked to take his picture and he beamed a huge smile and agreed. The old men watching on were also smiling and it seemed they enjoyed the fact that I could find beauty in this very spot. As soon as I lined the camera up to boy became utterly serious and posed just like Ben-Ali (President of Tunisia) does in his photos all over the place. It was so cute. The streets in the souqs are so tiny that all the restocking of shelves is done with carts pulled by men! The trucks part outside the medina gate where the men fill the cart up and pull it to their stall.
I also took the time to visit the Dar Jellouli Museum, which was incredible because it was the first courtyard house I saw in traditional Islamic style. The mansion was so beautiful, I fell in love with it. I really liked the traditional alcove beds, high up at waist height and hidden away by lovely curtains.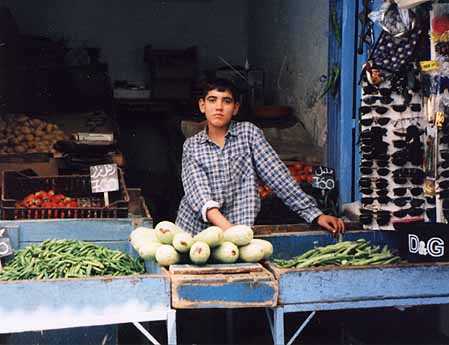 Previous Image: El-Jem Colloseum
Next Image: Ksar Ouled Soltane
Tunisia Main Page