Matmata
I was anxious to get to the south. Firstly, I found it incredibly hot, so I wanted to visit the south during the first part of my vacation, before the spring heat really took hold. And secondly I have always been more intrigued by what the south has to offer. The southern sites are more dramatic, and exotic than the northern ones. The two main aspects with the south are the desert landscapes, to the west, and the architecture, to the east. I didn't spend the night in Sfax, I continued on to an intermediate point, Gabès.
Gabès was crap. I even checked out some of the sites mentioned in the guide (palmeraie and Petit Jara) and was still not suitably impressed. The hotel was actually the best part, clean, friendly and cheap. I stayed at the Hôtel Ben-Nejima, close to the louage station, and ate next door at the Restaurant Boukachoukha, which was very friendly and tasty. As far as I can tell, and I looked pretty damn hard, the restaurant mentioned in the LP, Restaurant Ben Nejima, is no longer opened.
The following day I was really looking forward to be blown away by Matmata. I read in the LP about Matmata. It had lots of great things to say about it. However, when I arrived I guess it felt a bit overhyped. I was distressed that the author of the LP could find something special so easily. I chose to spend the night in Matmata at the famous Hôtel Sidi Driss and perhaps learn something from it. Even though there may not be much to see in the village, staying a longer period of time may let the "aura" seep in.
And it did. Over time I became more and more impressed with the troglodyte hotel and buildings. The heat and sparse vegetation. The bright sunlight and the relaxing locals. I really began to love the village and I would highly recommend a visit. But I learned something invaluable there: it takes time to appreciate things.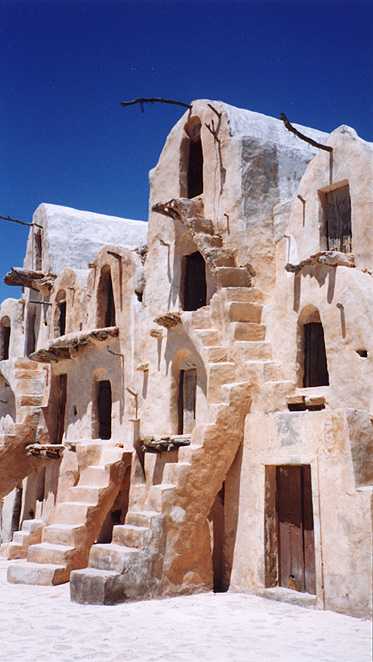 Previous Image: Sfax Medina
Next Image: Haddèj
Tunisia Main Page