Update ... History of our House
We live in Kentish Town, an area 3 miles north-east of the City of London. Below follows a general history of the area, and then, more specifically, the history of our house, built in 1868.
Kentish Town
Prior to the rapid expansion of London under Queen Victoria's reign, Kentish Town was a farming community, supplying the City. Kentish Town, along with Hampstead and Highgate, served also as a rural retreat for retired gentlemen and those wishing to escape the City for the summer.
By the early 1800's Kentish Town was a Victorian 'home county'. With stage coaches stopping every hour on their way to and from the cities in the north of England, middle class residents were able to commute into London each morning and evening. This opened up the area to those unable to afford their own horse and carriage, but aspiring to live in a substantial property away from the crowds and slums of the City. A building boom in the area, fuelled by growing middle classes, saw the population of St Pancras grow from 32,000 in 1801 to 130,00 by 1841.
Houses were typically built in ribbon developments of terraces (in which the individual houses touched each other) or estates of semi-detached homes, encompassing a package of several streets. Our house was built on the Christ Church Estate, towards the end of this boom. Of the five streets within the estate, the houses of Caversham Road were the largest, intended for the wealthiest residents. However, this scenario did not last for long.
The introduction of the railway, with the soot, fumes, noise and vibrations of the steam trains from the North, running through Kentish Town and directly across the Christ Church Estate, prompted those who could to move out to nearby Hampstead and Highgate. Within four decades, the houses on Caversham Road were too large for a single family living in the area to afford, and so multiple families shared the large rooms.
The Christ Church Estate was heavily bombed during the war. Many homes were substantially damaged and torn down after the war to make way for multi-story council estates. 1950's council estates were built on Islip and Peckwater streets, with the bulk of homes in Caversham Road covered into flats by the council for those in their care.
In the 1960's, the areas of Islington, Primrose Hill, Fulham and Kentish Town, began to rise in popularity for the Victorian architecture and closeness to the city. The 'right to buy' of council tenants to purchase at below market value properties they had lived in for many years, introduced many of council owned properties into the circulation of private ownership.
Now Kentish Town is home to a large number of media and creative types, often with young families occupying the typically 2 bedroom homes, who enjoy living in an 'inner city' suburb close to the City of London.
Our House
1717
Sir Thomas Hewett bequeaths 31 acres of farmland and a Jacobean farmhouse (c 1600) - on what will be the corner of Caversham and Kentish Town Roads - to Robert South of Caversham, Cannon of Christ College in Oxford, who bequeaths it to the college when he dies. Thomas Hewett's father was the Lord Mayor of London.
1773 - 1831
William Morgan leases the farmland and farmhouse from Christ College and farms the area for the next 58 years.
1833 - 1860
Christ Church College seek to develop the estate, but are hampered by 'war uncertainties' and failure to secure access to Camden Road from Lord Camden.
1861
3 houses on Caversham Road, occupied by Thomas Hazeon, Emma Booker and Sarah Kingston and their families. Hewett's original Elizabethan farmhouse is demolished.
1865
Houses have been torn down to make way for the Midlands Railway, which runs underneath Caversham Road.
1867
21 occupied houses on Caversham Road. Residents included physicians, a surgeon, a solicitor and an artist. By October, work has begun on our house.
1869
In April, our house is complete. Thomas Hazeon has moved in to a furnished house and pays £48 in land rates. Building commences on St Luke's Church on the end of Caversham Rd. The cost is borne by Midland Railways, in compensation for the church demolished to make way for St. Pancras Station.
1871
Thomas Hazeon (43), wife Mary (41), children Mary (19), Thomas (16), Robert (11) and Emily (5) live in our house, with their servants, Hannah Prior (23) and Jane Clements (26). Thomas, a local man, born in the parish of St Pancras is a stone merchant. Mary was raised in Winthorp, Nottinghamshire, with all of their children born in St Pancras parish.
1881
Thomas Hazeon (53), now a widower, has both sons Thomas (26) and Robert (21) working as stone merchants alongside him. Daughters Mary (29) and Emily (15) are still living at home, with servants Emma (23) and Lena (19) Keane.

Professions of other family heads on Caversham Road include an architect, auctioneer, civil engineer, builder, coach maker, professor, police constable, accountants and many types of clerks. All households have servants.
1891
Widow Bessie Bell (45), originally from Ireland, now owns our house. She lives with her 3 daughters, all born in St Pancras parish - Eleanor (23), Harriette (21) and Inintiela (19). The daughters are all working as governesses: Eleanor works for a private family; with Harriette and Inintiela working at a school (possibly at Kentish Town Parish National School, on neighbouring Islip Road, built in 1849). The house is still supported by 2 servants, Annie Samuels as cook and Ester Stemp as a housemaid.

Professions of family heads on Caversham Road include a range of engineers (gas, mechanical, electrical), a glass manufacturer, fine art publisher, music hall inspector, importer of foreign goods, wood engraver, register to the University College and artificial tooth manufacturer. Most households only have 1 servant; a few families are without servants.
1901
The house has been sold to George Bishop (46) who owns his own business of manufacturing medical rubber. He lives with wife Sarah (46), son Edwin (20) employed as a carpenter, son William (17) employed as an ivory layer and daughter Nellie (14) employed as a dressmaker. Sarah's father, Edward Jackson (77) formerly a shoemaker, born in the city of London, also lives with the family, alongside George's grand-daughter Constance Burton (6). The family have one servant, Lizzie Mornvering (19) from Scotland and have moved to Kentish Town from Clerkenwell.

Other professions of family heads on Caversham Road are missionary, tortoiseshell mounter, barrister, mantle maker, artist (born in the US), watch clock maker, advertising agency, professor of languages, marble merchant, cabinet maker, silversmith factory manager, hosier salesman and Jewish minister of religion. Fewer families have servants.
1903
The North West London Synagogue opens on Caversham Road on land owned by the Midland Railway. Seating 250 worshippers, the synagogue is opened by Sir Marcus Samuel, the chairman of Shell Oil.
1911
Henry Bailey is listed as the resident of our house in the London Post Office Directory. 19 houses in Caversham Road are listed as divided into apartments.
1921
Our house is no longer a single family home. The Electoral Registry record 3 independent families residing on the 4 floors; Robert Bristow, Clare and George Gostlow and Abraham and Elsie Hunt. The Electoral Registry only records adults over 21, so it is likely that several children also live in the house.
1931
Six families are now living in our house. Electoral records list Alice Litton, Ivy and Thomas Page, Edith and Reginald Bass, Minnie Jackson, Dorothy and George Malkin and Ellen Rainsford.

The St Pancras Borough Council Welfare Centre is established on Caversham Road. Also located on Caversham Road are the Surrey Ice Creamery, ladies hairdresser, physician, laundrette and a boarding house.
1939
Ellen Rainsford is the only resident from 8 years previously. The five other families residing in our house are Alice and William Baker, Lucy Colwell, Ethel and Walter Dinham, Basil and Kathleen Hedges, and Clifford and May Newman.
1939 - 1945
During the war, bombs fell on many parts of Kentish Town. Midland Railway, carrying coal and supplies from the North into London, was frequently targeted. Our house is recorded as having sustained serious damage, but repairable at cost. The home originally attached to ours was damaged beyond repair. Many homes where Islip and Peckwater Streets meet Batholomew Road were completely destroyed or damaged beyond repair.
1945
Three families live in our house: Mary and James Moore, Francis and Margaret Wharton and Florence Newalll.
1951
Francis and Margaret Wharton remain in our house, with 4 new families: Bridget and Robert Chapman, Brendan and Sheila O'Dowd, Annie and Joseph Pomphrey and John Gildea. St Pancras Day Nursery has been built on the site once occupied by house attached to ours.
1955
The freehold of our house, along with 300 other residential properties, 18 main road shops, 2 banks, 2 blocks of post-war flats and 3 pubs is auctioned by Jones, Lang, Wootton and Sons. The freehold is transferred from Christ Church College, Oxford to the Metropolitan Borough of St Pancras.

Our house is listed as 4 individual living quarters: basement with 2 rooms and scullery; ground floor with 2 rooms and kitchen; first floor (us) with 3 rooms, kitchen and indoor WC; and second floor, 3 rooms and kitchen.
1961
The basement is now recorded independently from the main house. Florence and William Case, along with long-time residents Bridget and Robert Chapman live in the main house.
1972-76
Jean and Brian Watts live in our flat on the first floor.
1978-79
Martin Keeble and Alexander Smith in our flat.
1984-89
Mandy and Terry Reid and Deborah Kidby and Tony Robinson in our flat.
1995
Ian and Jill Wheeler-Bowden have moved in. In November 1997, Ian and Jill purchase the flat from the Mayor and Burgesses of the London Borough of Camden, under a right-to-buy lease.
2002
Sarah and Morrie Berglas purchase the flat from the Wheeler-Bowdens and begin our 3 years of weekend renovations.
Caversham Road, c.1905: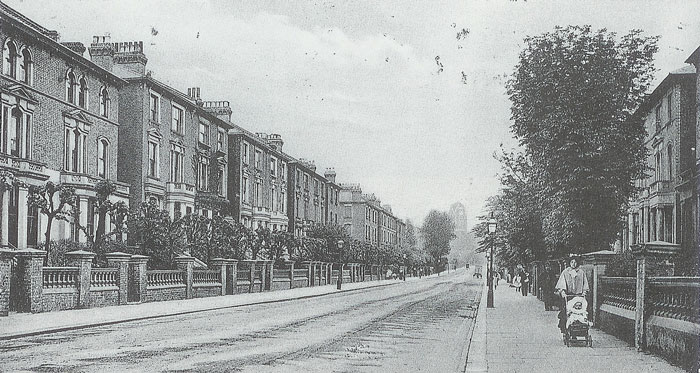 Many thanks to the staff at Camden Local Studies and Archives Centre (http://www.camden.gov.uk/localstudies) for their guidance in using their collection of microfiche Census Records, Rate Books, Electoral Registries, Post Office Directories and War Records, to research our house. Facts, illustrations and inspiration was also drawn from Gillian Tindall's book 'The Fields Beneath' and 'Kentish Town Past' by John Richardson.