Update ... Our wedding on the 13th of January, 2000
Lanesborough
Our evening wedding was held at the Lanesborough, at Hyde Park Corner in London. Built in 1828 as a country residence, the Lanesborough is an extremely elegant hotel. We were married in The Westminster Room, a traditional winter garden room with glass ceiling and we held the reception in The Wellington, the adjoining suite. With Wedgewood blue walls and bay windows, the marble fireplaces of The Wellington were adorned with masses of candles.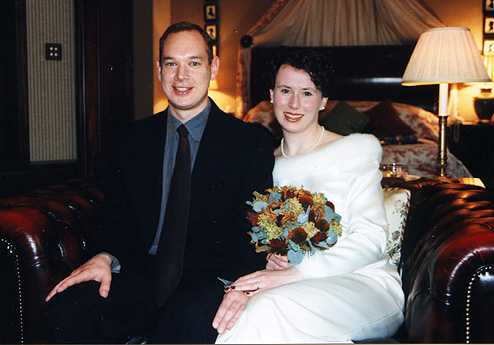 Our first night was also spent at the Lanesborough. You can see our bed in the background.
Ceremony
Reverend Ruth Scott and Rabbi Guy Hall jointly conducted our wedding service. Parts of the ceremony were sung in Hebrew and others came from the Church of England service of marriage. We shared in seven blessings, drank from the one glass to share in the sweet joys and bitter times of our future life, which Morrie shattered to symbolize that marriage is precious and once broken, will never be mended. After expressing our love and making our vows in English and in Hebrew, we walked down the isle together to The Verve's Bitter Sweet Symphony.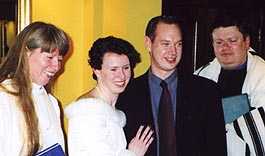 Reverend Ruth Scott, Sarah, Morrie and Rabbi Guy Hall.
Wedding Party
My two beautiful sisters, Katherine and Elizabeth came from Australia, the day before, to be bridesmaids at our wedding. Andy McMeeking was a fantastic best man, supported by his fiancée Louise Elmer. My father, Peter McDermott, walked me down the isle and made most of our guests cry during his speech.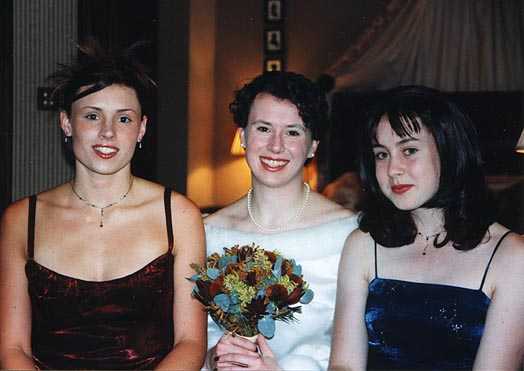 The three McDermott girls, just before the ceremony.
Dress & Bouquet
My dress came from Virgin Bride, another of Richard Branson's enterprises. Made by Watters and Watters in the US, the ivory satin dress had a princess line cut and arctic fox faux fur trim around the neckline and cuffs. My bouquet was a gift from my company and came from McQueen. The entire bouquet was made from native Australian flowers and eucalyptus stems. My jewelry, pearl earrings and pearl necklace, with blue Australian opal clasp, were borrowed from my mother for the evening.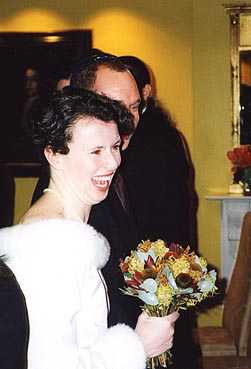 Walking down the isle with Morrie.
Guests
Our guests came from the four corners of the earth to see us wed. Morrie's parents, Harry and Mary Berglas, sister, Daniella and family friend, Marlene, flew in from Canada. So too did friends, Edgar and Mary Fuoss, Michael Heitner and David Adamson. My parents, Peter and Heather McDermott and sisters, Katherine and Elizabeth, arrived from Australia. Heiko Giermann came from Germany, cousins Mary and husband, Mervyn; Robert and girlfriend Ellen; Barbara and husband, John; and their children, Susannah and Harry came from East Anglia.
Guests from in and around London included: Andy McMeeking and Louise Elmer, Sonia and James Whittaker, Neil Thorne and Jacqui Moggee, Wendy and Frank Wray, Kerry Ives, Tim Read and Penny Inglis, Chris Holgate, Andrew Crowe, Hugh Eland and Sofronis Sofroniou.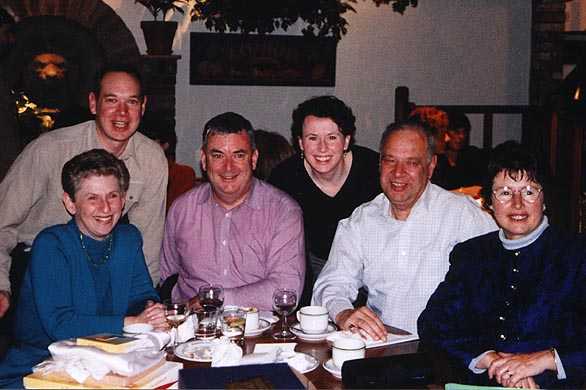 Our families met for the first time the night before the wedding at Lemonia's in Primrose Hill.
Cake
Our fantastic cake, a white chocolate profiterole mountain, came from Patisserie Valerie. When Morrie's parents were in London a few years ago, I saw the cake in a shop window while we were sightseeing. A month before the wedding, I went into eight patisseries around Knightsbridge trying to again find the cake. It was well worth the walk.

Cutting our wedding cake.
Gifts
We received many fabulous wedding gifts. Thank you, so much.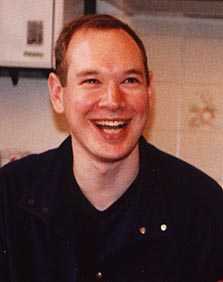 Morrie's joy opening presents.