Valaam Archipelago
The Valaam Archipelago is a group of around 50 islands forming an expansive set of monastic sites. The whole conglomerate is protected internationally for its cultural heritage and natural beauty.
Are those two reasons why we went there? Weíre not sure. It may have been more the fact that we wanted to get out of St. Petersburg for awhile. We wanted to explore what makes rural Russia. We also wanted an adventure.
The highlights of the trip were the adventures and the natural beauty, but more than those two, it provided a unique insight into Russian society. It all started as soon as we decided we wanted to go.
The guide book recommended taking a cruise on one of the foreign boats making the trip such as a Finnish, French or German tour. It did say, however, that you can get significant savings by going on one of the Russian boats, and recommended a Russian travel agency. We chose the Russian route. The travel agent did not speak a word of English, not a word. She was blabbering on about what weíd see, where to go, etc., but we just didnít understand. It took us the better part of an hour to just tell her where we wanted to go, when we wanted to go and to pay.
Somehow we managed to find the ferry terminal in the St. Petersburg suburbs the next evening. It wasnít until we saw over a dozen boats each over 100 meters in length that we realized we had no idea which boat was ours! When we did find it we were actually quite surprised. The boat was pretty old, but our cabin was nice, with lots of wood. It was even quite romantic. The trip is quite a long one, the boat leaves St. Petersburg at 9:00pm and arrives at Valaam at 9:00am the next day. That day is spent on the islands and the boat returns at 9:00pm, arriving back in St. Petersburg at 7:00am the following morning.
In the morning we woke up well before the boat was due to arrive and decided to make our way to the restaurant (the cruise was full-board). We showed the hostess our cabin key (we couldnít say 63 in Russian), she wrote something in a book and pointed to a couple of free chairs at a table. There were two mothers with a child each at the table, none of who spoke English and thought staring at us intently for a whole day straight is perfectly normal. It just happened we were very, very lucky because apparently there are three separate restaurants and two serving times for each meal. We happened to go to the right restaurant at the right serving time. God knows how they would have explained to us what happened if we got it wrong!
After arriving we spent the morning on one island and in the afternoon we took a smaller boat to another island. In both cases we followed a Russian tour to ensure we saw everything there was to see and so that we didnít get lost. Plus, we had no idea what time the boat left or when lunch was, so we figured following other people on the boat was a safe route. But these tours turned out to be much more different than we were expecting. The group would walk for around 5 to 10 minutes before arriving at a building, view, clearing or anywhere else the group leader decided to stop and talk. And then the leader would talk for no less than half an hour! Both tours lasted around four hours and Iím not exaggerating one bit when I say more than three of those four hours were spent standing looking at someone talking in Russian. Totally whacked-out. What the hell can they be talking about for that long?!?!?!
Overall the beauty was unbelievable, the trees, the water, the sky, the birds, the peacefulness. The buildings were spectacular set amongst trees and hundreds of years old with generations of monks being raised there. The food was purely Russian, most unidentifiable, but all eatable. We were part of a large experiment, us the scientists closely monitoring our subjects, the Russians on the tour, to learn as much as possible about them. We did learn a lot. Maybe thatís the real reason for visiting Valaam.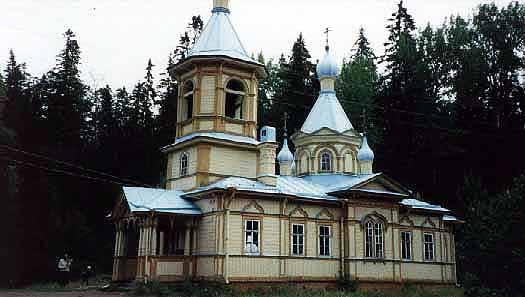 Previous Image: Peterhof
Russia Main Page