Peterhof
Peterhof must be the world's first Disneyland. The playground for the tsars, this outstanding estate less than an hour from St. Petersburg is guaranteed to bring a smile to any visitor's face. Not only are there acres of parks, some exceptionally well-tended and others more like forests, but there are also a series of palaces, one of which is enormous.
But all of this belies its real claim to fame. There must be hundreds of water fountains dotted all over place. They didn't stop there, though. There are trick fountains and pyramid fountains and chess board fountains. With all the adults gaucking and all the children running around soaking, no wonder it brings a smile to your face. You can easily imagine the exact same scene 200 years ago.
In case you are a budding engineer you would be shocked to hear that all of the hundreds of fountains are powered by gravity alone, not a single pump. We were told stories of little boys who were hired to keep the pipes clean by crawling though them. Their life expectancy was extremely short and they had lots of eye and breathing problems.
Anyway, the purpose of this page is actually not to describe Peterhof, but to tell of a story which occurred on our way home on the bus. We were with a friend from the hostel, Lorenz. An older man and middle-aged woman got on the minibus and sat directly behind the three of us. The man heard us speaking English and this was his cue to start up a conversation.
After the initial exchange, he comes from Amsterdam, Lorenz asked what he was doing in St. Petersburg. You see, we never saw anyone of that age traveling around independently, so he was a bit unique to start with. After a bit of prodding from Lorenz, he told us he came to Russia to find a wife (meanwhile this apparently non-English speaking woman was right beside us).
After that he just wouldn't shut up. He was telling us about the procedures to 'buy' a wife, he was talking about this woman's qualities, her legs, her daughter, even her thighs! Weird. I mean, at first this guy seemed totally normal and nice, but after, I thought I was in some kind of parallel universe. He went on: he was recently divorced and his son had died in a car crash around six months earlier. I don't know, I still felt odd.
Lorenz is much more forward than Sarah and I, and he couldn't just leave it at that. He was trying to find out the mental stability of this man. Lorenz was determined to find out if this man knew what the woman must think. And apparently not. The man never realises that his activities serve his needs, but that they may not serve hers. She has a daughter and who knows if she wants to be uprooted to Amsterdam?
In any case, it might be her duping him, she looked pretty intelligent even though she never said a word. Maybe she's using the opportunity to get to Holland and provide a better future for her daughter. If so I commend her on the level of sacrifice she's going through on behalf of her daughter. When we were in St. Petersburg I never had the feeling that people had to 'escape', it seems pretty free to me.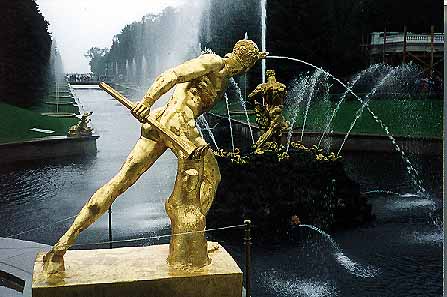 Previous Image: Russian Museum
Next Image: Valaam Archipelago
Russia Main Page