Destination ... Boca Raton Florida 2004, Page 1
The whole family jetted off to Miami International to visit the Berglas family in Boca Raton, Florida.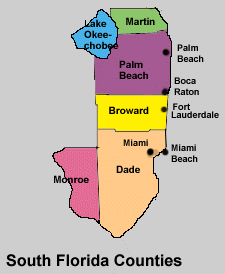 Dani and Marlene also came down to Florida from Montreal, so it was a real family reunion. The first few days were pretty relaxed but from then on the next week or so was filled with exciting sights and activities.
It took Anna a while to adjust which was why it was nice to have a relaxing first few days. Also, to maintain some kind of routine for Anna we took her to Boca's fabulous local parks in the mornings. The weather was cooperative for the whole trip, being just a tad too hot the first couple days and a tad to humid the last couple. But certainly nothing worth complaining about.
Rhona and Syd also live nearby in Delray Beach. Adrienne, Taj, Tristan and Russell were thoughtful enough to time their Florida holiday at the same time as ours and so we got to see lots of them.
I would like to take just a few minutes to try and faithfully describe Boca's parks because they are just out of this world. There were two parks nearby which we went to: Sugar Sand and Patch Reef.
We frequented Patch Reef Park often and Anna certainly developed a love for it. The park is enormous with multiple baseball fields, soccer fields, basketball courts, tennis courts, buildings, forests and, most important for us, a children's play area. But they really know how to design great children's play areas. It's not just a collection of climbing frames, slides and swings. There's a real novelty in the design and the creative effort put into it is remarkable. To be able to offer this facility completely for free is astounding.
We only went to the other park, Sugar Sand Park, once mainly because it is targeted at older children than Anna. However, it is by far the most amazing free playground I have ever seen and probably more than I could even ever imagine. The sheer size and vastness of the playground and all the imaginative things children can do in there makes me very envious of Boca Ratonians with children.
This made me think a bit about how "standard of living" is measured by international bodies. At first glance you could say that Americans have a high standard of living because, percentage wise, many have computers, dishwashers, air conditioning, cable TV, and so on, all at reasonably affordable prices. However, looking at these two parks I have revised my preconceptions on standards of living. Someone, who like me living in Kentish Town, no matter how much they spend, will never be able to take their child to a Sugar Sand or Patch Reef equivalent because these things don't exist in my neighbourhood. So what really defines standard of living are things that can't be bought: traffic congestion, access to cultural events, good weather and vibrant neighbourhood atmospheres for example.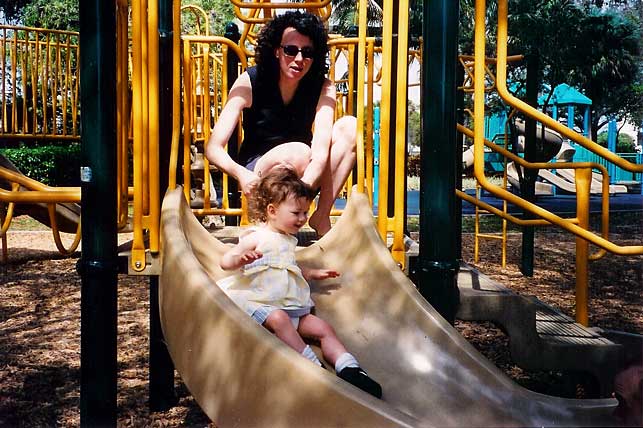 Anna frolicking at Patch Reef Park.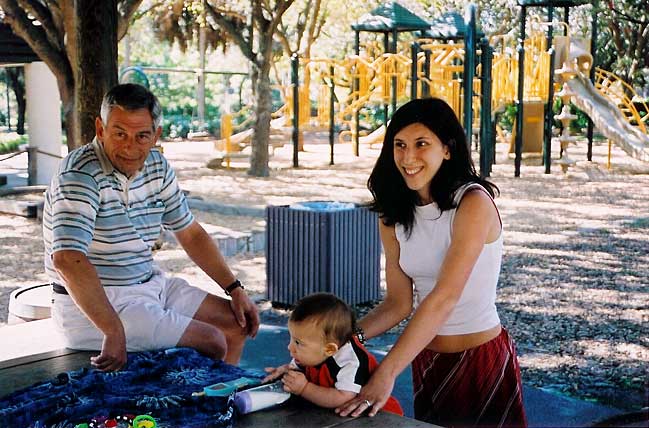 Syd, Adrienne and Russell relaxing at Patch Reef Park.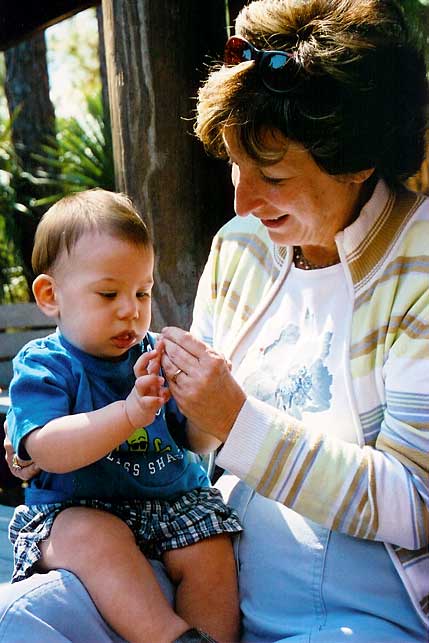 Rhona and Russell.
There are some pictures from Sugar Sand Park on page three.