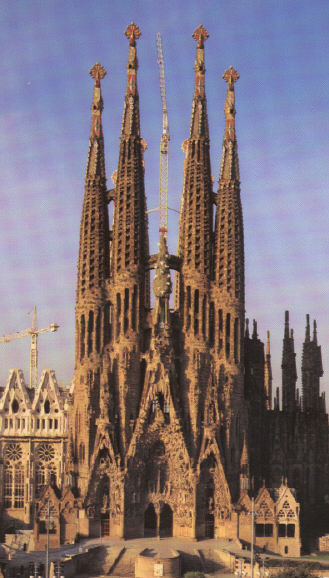 Sagrada Familia
The Eixample is a planned suburb immediately north of the old town. It is an old suburb, about 100 years in the making. The entire suburb, which is huge, is laid out on a perfect grid pattern and looks hilarious from the sky (we have a postcard from this viewpoint). This area is home to most of the city's famous modernista architecture, including the famous Sagrada Familia church. This church is amazing even though it's far from finished. It is immense in proportions and seriously looks like the architect (Gaudì) was on some kind of hallucinatory drug at the time of design. We were crazy enough to climb the who-knows-how-many stairs up one of the eight towers, providing a clear view over all of Barcelona and even views down onto constrution workers on the roof of the church!
The beaches of the sea front begin a few blocks to the east of the old town. The beaches are nice and we couldn't entirely decide if the sand was real or brought-in. In any case the beach was beautiful and it comes with a typical wooden boardwalk (but no long Victorian piers). Walking the beach leads to the Olympic village where people stayed. It's now packed with high-priced seafood restaurants that we couldn't really afford, but they certainly looked nice with their huge patios.
Another highlight, a bit further afield, is Park Güell. This park was designed by Gaudì for Mr Güell and contains a lot of "weird stuff". There are long ceramic benches, ceramic dragon fountains, a ceramic gingerbread house, and other, even weirder things. To be seen to be believed.